Tuesday, July 22, 2014
Faced with a decline in the golf equipment industry, Dick's Sporting Goods, the largest retailer in the United States of TaylorMade and Callaway products, fired all the PGA professionals that it employed in the golf sections of its more than 560 stores.
The company did not immediately respond to a request for comment, but three PGA professionals who were fired confirmed to ESPN.com that more than 500 full-time PGA professionals were let go Tuesday.
[+] Enlarge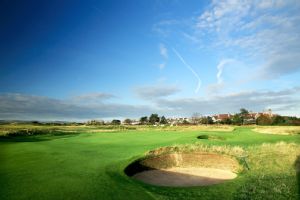 David Cannon/Getty ImagesDick's Sporting Goods, which fired more than 500 PGA professionals Tuesday, recently cited a downward trend in its golf merchandise sales.
"I'm sincerely disappointed that the careers of so many PGA professionals have been hurt today," said PGA of America president Ted Bishop in a letter to the laid-off employees, obtained by ESPN.com.
Dick's aimed to have one PGA professional at every store to better differentiate the experience from online retailers that try to undercut brick and mortar stores. But the economy, the downturn in participation, the decline of Tiger Woodsand too many products flooding the market cut into Dick's bottom line so much that the company seems to be giving up on winning the golf equipment business.
Dick's also owns golf specialty retailer Golf Galaxy, which it acquired in 2006 for more than $200 million.
"We are selling drivers in our stores this spring for $99 that were approximately $299 20 months ago," Dick's CEO Ed Stack said after announcing earnings on May 20.
In the first quarter, Dick's said it sold only 2 percent fewer drivers compared to the first quarter of 2013 but that the average price of those drivers was down 16 percent.
Stack said at the time that the company's overall golf business missed its first quarter sales plan by $34 million and that he expected a downward trend for the rest of the year. On average, the golf business accounts for about 15 percent of Dick's overall revenues.
As TaylorMade's largest retailer, Dick's was hit hard after it bought all four models of driver TaylorMade released last year and the glut of merchandise forced it to sell at under the suggested retail price.
"Every macro-indicator that we've been looking at for the past 20 years -- rounds played, number of minorities playing, women coming into the game -- all of these things that we tracked says that there's less people playing," Mark King, former president of TaylorMade, who was recently named president of Adidas North America, told Bryant Gumbel on HBO's "Real Sports" in a segment that will air Tuesday night.
"Young people entering the game after high school, 18- to 30-year-old kinds down 35 percent in the last 10 years. So I don't like where the game looks like it's going."
Approximately 400,000 people left the sport in the last year, according to the National Golf Foundation.
SOURCE: http://espn.go.com/golf/story/_/id/11248733/dick-sporting-goods-fires-more-500-store-pga-professionals
A special offer from GolfSmith our sponsor:
---
FREE $10 GIFT CARD with $100 purchase. But don't wait. Place gift card and items in cart for offer.
---
Monday, July 21, 2014
- Honma Golf Co., Ltd. introduces, the new Tour World G1x™ golf ball for golfers seeking high launch, low spin, distance and durability. Amazing carry is achieved by successfully adopting the new research & developed large-capacity and high repulsion core, low-spin and high initial velocity that creates excellent linearity which gives the distance performance you want. Stable Spin Performance by adoption of soft cast urethane cover that provides outstanding spin performance under any condition, but remaining durable. Optimal Trajectory is achieved by the big diameter 318 dimples with combination of large capacity and high rebound core, plus high repulsion Urethane Elastomer™ cover, gives the optimum trajectory and stabilized performance against the wind. MSRP is $45.99
Saturday, July 19, 2014
OYLAKE, England – Rory McIlroy isn't the only member of his family eyeing a big payday on Sunday at Hoylake.
McIlroy's father, Gerry, reportedly made a bet when Rory was 15 years old that he would win the Open Championship before he turned 26. According to Brian Keogh with IrishGolfDesk.com, who confirmed the wager with the Northern Irishman's manager, the older McIlroy pooled 400 pounds (about $680) with three friends for the bet that offered 500-to-1 odds.
Gerry McIlroy stands to win $342,000 if Rory, who leads by six strokes at Royal Liverpool, claims the claret jug.
Friday, June 6, 2014
Salt Lake City, UT (June 5, 2014) - OGIO, a global leader in golf bag, apparel and accessories design, announces the availability of its highly- anticipated footwear. Available in four unique models, the Race, City Spiked, City Turf and Sport shoes each have different design elements to cater to every golfers needs.

The new shoe collection is influenced by OGIO's legacy in adrenaline sports and men's lifestyle fashion. Each shoe features top-quality leather and OGIO's 'Synkfit' insole, an internal stabilizing system that reduces the movement of your foot inside the shoe, amplifying the transfer of energy into the golf ball. OGIO's golf shoes deliver a revolutionary "out of the box" golf experience, while enduring the strongest conditions in all types of climates.

The Race shoe combines an optimal blend of a fast look, custom fit comfort and performance through OGIO's heritage in adrenaline sports. OGIO has gone further than the competition, using first-class technology and exotic supple leather to build a perfectly balanced frame where weight, support and traction are maximized to sharpen stability. The Race contains OGIO's 'Synkfit' insole, delivering the ultimate fit and comfort customized by the user.

The City Turf Shoe is designed with the on-the-move golfer in mind. The shoe mixes a dress shoe, casual shoe and golf shoe to fit an urban lifestyle. Impeccable traction straight from the office to the sidewalk to the golf course is attained with OGIO's proprietary Permaspyke, guaranteeing no protruding spikes. The trendy appearance boasts stylish lines and stiches that are sure to impress on and off the course. City Turf is crafted with full grain, waterproof leathers and displays OGIO's Synkfit insole system.

The City Spiked shoe offers a fashionable look similar to the City Turf, but adds spikes into OGIO's Ground Control traction outside. This extra feature promises golfers maximum traction and stability during the most powerful conditions. A square toe box design brings today's favored off-course style to an elegant golf shoe while maintaining a natural foot stance. The City Spiked bears the Synkfit insole for stability and a built in lateral torsion stabilizer.

The Sport shoe embodies OGIO's Endurance line with an aggressive look and four color choices, green, red, black and white. This model is perfect for users craving a blend of lightweight materials, unmatched breathable comfort and a modern look. With half leather and half breathable mesh, it gives natural airflow in and out of the shoe with each step while keeping the golfer steady during a swing. The Sport integrates OGIO's XWRAP upper design with its built in Lateral Torsion Control system and Synkfit Insole to certify stability in an extremely light shoe.

"We are thrilled to announce our much-anticipated line of footwear is now hitting store shelves." said Tom Gocke, Global VP of OGIO Golf. "This new category for OGIO will enhance a golfers experience in, yet, another part the game. We've already had our shoes worn in several PGA Tour events this season and have several more players already committed to wearing shoes on tour later this year. We had one player say he would wear them in one round of a professional event, for fear of new shoe blisters, and he was so impressed with them, he wore them the next 3 days as well."
Wednesday, May 21, 2014
Source: http://www.cnn.com/2014/05/21/sport/golf/golf-mcilroy-wozniacki-break/
(CNN) -- One of sport's most high-profile couples are no more.
Golf star Rory McIlroy announced Wednesday that he had broken off his engagement to tennis player Caroline Wozniacki.
The two-time major winner from Northern Ireland said the issuing of wedding invitations over the weekend had made him realize he wasn't prepared for "all that marriage entails."
McIlroy and former world No. 1 Wozniacki, from Denmark, announced their engagement via social media on New Year's Day -- but their three-year relationship is now over.
Read: McIlroy and Wozniacki engaged
"There is no right way to end a relationship that has been so important to two people," McIlroy said in a statement reported by the UK Press Association.
"The problem is mine. The wedding invitations issued at the weekend made me realize that I wasn't ready for all that marriage entails.
"I wish Caroline all the happiness she deserves and thank her for the great times we've had.
"I will not be saying anything more about our relationship in any setting."
McIlroy, ranked 10th in the world, is currently preparing for the European Tour's flagship event -- the BMW PGA Championship at Wentworth in England.
He spoke briefly about the split at a press conference ahead of Thursday's opening round, telling reporters: "Obviously (it's) quite a difficult time for Caroline and myself.
"I think the statement really said it all this morning. It was mutual and amicable and we both thought it was the best for us, the best for both of us. Time to move on and I think I've said all that I need to say.
"Now I need to get my head into golf and concentrate on the tournament, keep myself busy and try and have a good week on the course.
"I'm not going to lie. It's going to be very difficult. But you know, at least when I get inside the ropes I can just try and concentrate on the shot at hand. But yeah, it's obviously going to be difficult."
A special offer from GolfSmith our sponsor:
---
FREE $10 GIFT CARD with $100 purchase. But don't wait. Place gift card and items in cart for offer.
---