Monday, September 8, 2014
The big story last year regarding Cleveland's 588 RTX wedge was the addition of third-generation Tour Zip grooves that were 16 percent larger than that of its predecessor, the 588 Forged. With wider grooves that offered ample bite on a variety of shots from the rough, sand and wet conditions, Cleveland decided to turn its attention to an area of the 588 wedge that has remained relatively the same in recent years.
Through research and feedback from some of the top players on its staff, including Keegan Bradley, Graeme McDowell and Hideki Matsuyama, Cleveland developed three distinct sole grind options in two different head designs with the new 588 RTX 2.0 wedge lineup.
"We wanted to add some versatility to the line with three distinct sole grinds that work well as a family," said Brain Shielke, Cleveland Golf's product manager. "Instead of using the same sole and changing the angle, we actually designed a completely different sole that's designed specifically for a player's swing and needs."
While Cleveland has typically offered multiple bounce options in the past, this is the first time the company will offer a wedge with specific bounce and sole grinds that allows players to optimize their wedge setup based on course conditions and playing preferences.
The Low Bounce Grind (One Dot) provides the lowest effective bounce of any wedge in the 588 RTX 2.0 lineup with a trailing edge grind and maximum heel and toe relief that works well from tight lies. The grind option is geared for players with a shallow angle of attack that typically play courses with firm conditions.
A Standard Bounce Grind (Two Dot) is also offered and provides players with mid effective bounce, a trailing edge grind and moderate heel and toe relief that make it a preferred option for players looking for a blend of versatility and forgiveness from a variety of playing conditions. According to Cleveland, this is the most playable wedge grind.
For players with a steep angle of attack, the Full Sole Grind (Three Dot) could be an option. With the highest effective bounce of the three grind options, the Full Sole has a constant sole width that can move through a variety of surfaces. The wedge is geared for players that not only have a steep angle of attack but play on courses with softer conditions.
Cleveland is touting the 588 RTX 2.0 as its most extensive wedge lineup. With the addition of three new sole grind options, players will be able to choose from 120 different model, loft, sole grind and finish combinations.
The 588 RTX 2.0 will be available in two head designs. The blade design is made from 8620 carbon steel and is based on tour testing and feedback. The compact top down shape comes in three grind options and two finishes — Black Satin and Tour Satin.
The cavity back design is made from 431 carbon steel and features a slightly larger head shape than the blade for increased confidence at address. The sole grinds have similar shapes to that of the blade, but different dimensions are provided for extra forgiveness through the turf. The wedge comes in a Black Satin finish.
Although it's not the biggest story this time around, the 588 RTX 2.0 has fourth-generation Tour Zip grooves that are 8 percent deeper than its predecessor and channel away grass, dirt and moisture for cleaner contact and consistent spin. The wedge face also has a new micro-milled Rotex face pattern that gives it the most surface roughness the USGA will allow for increased spin.
Cleveland's 588 RTX 2.0 retails for $130 per wedge and will be available in right- and left-handed options with True Temper's Dynamic Gold shaft. A new graphite Rotex wedge flex shaft — the shaft was designed for improved performance and feel — will also be offered.
SOURCE: http://www.pgatour.com/equipmentreport/2014/08/12/cleveland-introduces-588-rtx-2-0-wedge-lineup.html
A special offer from GolfSmith our sponsor:
---
FREE $10 GIFT CARD with $100 purchase. But don't wait. Place gift card and items in cart for offer.
---
Monday, August 18, 2014
It's a great day for elite golfers who like blade irons, and players who can benefit from a high technology utility iron. Callaway this morning announced the Apex Muscleback Irons and Apex Utility Irons, both are available for custom order online September 12, including on Callawaygolf.com. As a special offer, customers can pre-order both of them starting today, August 15.
The Apex Muscleback Irons are classically crafted, Tour inspired, premium forged blades with playability too, and they're a great choice for elite, low handicap golfers. This irons set is custom order only, and comes standard in a 2-PW.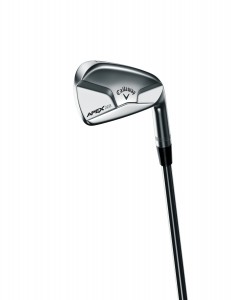 The Apex Utility Irons will be available at some retail accounts too. These forged utility irons are loaded with technology to give players high ball speeds across the face, along with performance, playability and a lot of forgiveness. They've gained immediate popularity on Tour since they were introduced at the Open Championship, and they're available in 18-degree, 21-degree and 24-degree lofts.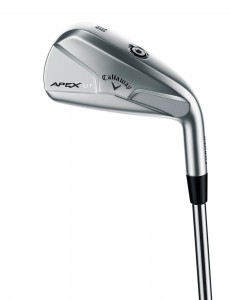 A suite of content was released by Callaway to support the announcement, including an episode of Callaway Talks featuring the company's SVP of R&D, Dr. Alan Hocknell: http://youtu.be/IYoVdqPddiU
And in this Friday Office Tip, Callaway Tour Pro Pat Perez uses the Apex Utility Iron to show us how to hit a low shot when the wind is up: http://youtu.be/ZbHrkBgBvok
For more, please visit CallawayGolf.com
Thursday, August 14, 2014
Norcross, Ga. (Aug. 13, 2014) - Mizuno, a world-class leader in iron technology, design and development, has entered a new era of innovation with the release of the JPX-850 Forged irons, the first-ever iron to implement "Boron" into the forging process. Boron, a chemical element with atomic number five, commonly found in Earth's crust and throughout the Solar System, establishes an entirely new standard for distance, forgiveness and feel in a Mizuno forged iron.

This exciting material innovation simply reinforces Mizuno's long-standing reputation of superior design, feel and performance in its irons. With JPX-850 Forged, the company continues to pave the way for innovation, manufacturing and performance technologies, unwilling to cut corners or compromise quality for the sake of better margins.

"The addition of Boron to our 1025 carbon steel in our patented Grain-Flow Forging process enabled us to stretch the limits of design within the iron to bring to market one of the longest and most forgiving forged irons ever, without sacrificing the Mizuno trademarks of look and feel," said Chuck Couch, Vice President of Product Development, Golf Division, Mizuno USA. "We held true to our history of quality and performance, while leveraging the benefits of Boron in JPX-850 Forged to deliver an iron that will stand above any other forged iron on the market."

The golf industry has seen Boron used as a decorative element to create an effective "finished" look. With JPX-850 Forged, Mizuno is capitalizing on Boron's superior performance benefits to give the new irons 30 percent greater strength. By infusing Boron, Mizuno was able to design a much thinner face in the JPX-850 Forged then standard metals to provide an industry leading COR and "sweet area" to allow for an aggressive approach to any golf shot.

Featuring an ultra CNC pocket cavity combined with a Power Frame design, JPX-850 Forged provides golfers the Mizuno feel expected in a forged iron with a large sweet area typically found in game-improvement clubs. In addition to the unparalleled feel and distance of the JPX-850 Forged, Mizuno utilized H.I.T (Harmonic Impact Technology) Power Frame, a vibration management technology, and acoustical badge design to deliver the iconic Mizuno sound and feel players crave at ball impact.

The JPX-850's are designed with a Triple Cut Sole and beveled leading edge allowing for greater versatility and ball workability from difficult lies. The irons are outfitted in Satin Nickel Chrome Plating with electro-form badge giving users an aggressive, sleek look Mizuno is known to produce.

4- GW (Right- and Left-Hand Models)
Steel Shaft: XP115
Graphite shaft: NEW Orochi
Grip: Golf Pride M-31 360 58 Round
Other Options available through Mizuno's Custom Department
Suggested Retail Price: $999.99 Steel / $1,099.99 Graphite
Pre-sale/Demo: Aug. 29, 2014
On-sale: Sept. 19, 2014
The JPX-850 Forged line will be available for pre-sale and demo through Mizuno's Performance Fitting System (PFS) cart. The irons will be on shelves at golf and sporting goods retailers on Sept. 19, 2014.

Learn more about the new JPX-850 Forged in the new product video online at mizunogolf.com.
Sunday, August 10, 2014
Callaway Golf officially introduced their new line of Big Bertha V Series drivers and fairway woods, which will be available at retail on August 22nd. The entire new line of woods contains what Callaway calls, "speed optimized technology," which means they're made to swing faster than any Big Bertha clubs to date. This is accomplished through the use of lightweight components, an improved aerodynamic clubhead design, and lightweight shafts and grips.
The Big Bertha V Series driver ($399), is built with a lightweight forged composite crown and lightweight "Hyper Speed," clubface, the combination of which allows for more weight to be redistributed lower and deeper in the clubhead for increased MOI and greater forgiveness. The clubface, which features variable face thicknesses, further enhances forgiveness and distance on off-center hits by providing a larger effective hitting area. The addition of extremely lightweight shafts (42g on the higher lofts, 53g on the 9-degree head) make the Big Bertha V Series driver approximately 20g lighter than the standard Big Bertha (in the higher lofts), making it easier to swing at high speed for a wide variety of players. The previously mentioned aerodynamic clubhead helps cut drag to allow the clubhead to move even more quickly through the air.
The Big Bertha V Series Driver also features Callaway's OptiFit adjustable hosel technology, which allows the the clubhead to be dialed into four different lofts (-1, Standard, +1, +2) in two different lie angle settings (draw or neutral). Standard lofts available are 9-. 10.5-, and 13.5-degrees.
The V Series fairway woods ($249) feature the same "speed optimized technology," as the driver including lightweight, aerodynamic clubheads and lightweight shafts as well as "hyper speed," clubfaces. The fairway woods do not feature adjustable hosels but do come fitted with an updated War Bird sole that increases playability from a variety of lies and turf conditions. A special 20-degree Heavenwood option is available in addition to 3-wood, 5-wood, 7-wood, and 9-wood. All Big Bertha V Series fairway woods are designed to provide conistently higher launch angles for increased carry and distance, even when the ball is struck low on the clubface.


Read more: please visit CallawayGolf.com
Tuesday, July 22, 2014
Faced with a decline in the golf equipment industry, Dick's Sporting Goods, the largest retailer in the United States of TaylorMade and Callaway products, fired all the PGA professionals that it employed in the golf sections of its more than 560 stores.
The company did not immediately respond to a request for comment, but three PGA professionals who were fired confirmed to ESPN.com that more than 500 full-time PGA professionals were let go Tuesday.
[+] Enlarge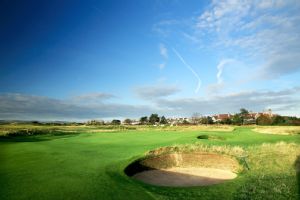 David Cannon/Getty ImagesDick's Sporting Goods, which fired more than 500 PGA professionals Tuesday, recently cited a downward trend in its golf merchandise sales.
"I'm sincerely disappointed that the careers of so many PGA professionals have been hurt today," said PGA of America president Ted Bishop in a letter to the laid-off employees, obtained by ESPN.com.
Dick's aimed to have one PGA professional at every store to better differentiate the experience from online retailers that try to undercut brick and mortar stores. But the economy, the downturn in participation, the decline of Tiger Woodsand too many products flooding the market cut into Dick's bottom line so much that the company seems to be giving up on winning the golf equipment business.
Dick's also owns golf specialty retailer Golf Galaxy, which it acquired in 2006 for more than $200 million.
"We are selling drivers in our stores this spring for $99 that were approximately $299 20 months ago," Dick's CEO Ed Stack said after announcing earnings on May 20.
In the first quarter, Dick's said it sold only 2 percent fewer drivers compared to the first quarter of 2013 but that the average price of those drivers was down 16 percent.
Stack said at the time that the company's overall golf business missed its first quarter sales plan by $34 million and that he expected a downward trend for the rest of the year. On average, the golf business accounts for about 15 percent of Dick's overall revenues.
As TaylorMade's largest retailer, Dick's was hit hard after it bought all four models of driver TaylorMade released last year and the glut of merchandise forced it to sell at under the suggested retail price.
"Every macro-indicator that we've been looking at for the past 20 years -- rounds played, number of minorities playing, women coming into the game -- all of these things that we tracked says that there's less people playing," Mark King, former president of TaylorMade, who was recently named president of Adidas North America, told Bryant Gumbel on HBO's "Real Sports" in a segment that will air Tuesday night.
"Young people entering the game after high school, 18- to 30-year-old kinds down 35 percent in the last 10 years. So I don't like where the game looks like it's going."
Approximately 400,000 people left the sport in the last year, according to the National Golf Foundation.
SOURCE: http://espn.go.com/golf/story/_/id/11248733/dick-sporting-goods-fires-more-500-store-pga-professionals
A special offer from GolfSmith our sponsor:
---
FREE $10 GIFT CARD with $100 purchase. But don't wait. Place gift card and items in cart for offer.
---